May 6, 2018
We've talked about fats and carbohydrates (part 1 and part 2) already, but what about protein?
Like the other macronutrients, protein can be misunderstood.
Like dietary fat, I've heard from people including trainers that protein can make you fat if you consume too much. Let's be clear – too many calories can lead to fat gain, not necessarily any one specific macronutrient. However, with that in mind, we need to be thoughtful about what is paired together with protein as well as how protein is utilized in the body. Is eating a whole egg really a problem, or is it that many people won't just eat one or two yolks, but will pair the meal with buttered toast, multiple pieces of fatty bacon and top it all with salt? While these components may not always be the "healthiest" choice, individually they can be fine in moderation, but together – it's like a league of villains, or can be if they are consumed too often.
Ok, so what is protein?
Chemically, protein is a polypeptide of 50 or more amino acids that have biological activity. Protein is found in our DNA, which means it is found in our muscle mass, blood, bones and skin. "They function in metabolism, immunity, fluid balance, and nutrient transport, and in certain circumstance they can provide energy (Timberlake, Karen, 2018)."
Nutritionally, we know that one gram of protein has four calories associated with it. We know that protein needs are lower in comparison to carbohydrates and fats because the body utilizes carbohydrates as a first line of energy followed by fat (Thompson & Manore, 2015). This doesn't mean that protein isn't important. Dietary protein helps us conduct daily business. It helps the body to function without depleting protein found in the body (i.e. muscle mass).
But, you can consume too much protein and we will get to that, but first some background.
In chemistry, protein is called a polypeptide, which a chain of amino acids.
Amino acids are called building blocks because they are single units that bond together to make protein.
There are 20 amino acids found in our bodies (Timberlake, Karen, 2018). We can make 11 of them, but there's another nine that we need to get with our diet. Amino acids that must be consumed are called essential amino acids. They're essential because without them our bodies can't make other proteins for other body functions like neurotransmitters. The 11 amino acids we can make are called nonessential amino acids.
Alanine
Arginine
Asparagine
Aspartate
Cysteine
Glutamate
Glutamine
Glycine
Histidine*
Isoleucine*
Leucine*
Lysine*
Methionine*
Phenylalanine*
Proline
Serine
Threonine*
Tryptophan*
Tyrosine
Valine*
*essential amino acids
I'm sure many of you have heard of BCAA's or branched chain amino acids. You've probably seen them in the store in a pill or powdered form. Simply, these are specific amino acids that have a branch. They can assist in decreasing protein synthesis, which means they can help prevent muscle breakdown and losses, however, there isn't much research the proves this to be true or consistent (Wolfe, 2017). There are three BCAA's out of the nine essential amino acids: leucine, isoleucine and valine.
I've heard people say that amino acids are inferior to protein. You can't confused BCAA's with all amino acids. I would say that drinking or consuming a BCAA if you recognize deficits or holes in your nutrition can be helpful, however, I would recommend that you eat a complete protein rather than drink amino acids or a protein shake. But – remember, it's also about preference too – drinking BCAA's won't hurt you and some people just like protein shakes. I've tried BCAA's, but I never noticed a difference and that could be because of dietary diversity even when in a caloric deficit.
Moving on.
So an amino acid is equal to a single unit, protein is equal to many units of amino acids. As you can imagine, there are many combinations of amino acids and the combination determines the function of the protein in our bodies.
Here are some things in our bodies made up of amino acids:
endorphins
hemoglobin
collagen
insulin
enzymes
muscle
Above, I mentioned complete protein. A complete protein has all of the essential amino acids in it.
Examples of complete proteins:
egg whites
meat
poultry
fish
milk
An incomplete protein lacks one or more essential amino acids.
Examples of incomplete proteins:
corn – missing lysine and tryptophan
beans – missing methionine and tryptophan
almonds and walnuts – missing lysine and tryptophan
peas and peanuts – missing methionine
 wheat, rice and oats – missing lysine
Dietary protein helps us build our bodies (Thompson & Manore, 2015). Our bodies are resilient and function smartly. When protein is broken down in the body, the amino acids are recycled into new proteins. Like mentioned above, protein helps with hormone balance, fluid and electrolyte balance, repairs our bodies and helps us grow, but as an energy source our needs are pretty low. This is due in part because we recycle amino acids because our bodies don't have a "specialized storage form" of protein.
So how much should you eat?
At one point, the recommended daily allowance (RDA) suggested .8g per kilogram body weight per day for both inactive and active individuals. However, more research has shown that individuals who are active may need more. The ranges should vary based on a number of factors such as gender, age, size, but also the kind of activity you do, which is where I slightly disagree with the 2010 Dietary Guidelines for Americans. A 2009 review of these guidelines determined the following concepts:
protein is a critical part of the adult diet
protein needs are proportional to body weight; NOT energy intake
adult protein utilization is a function of intake at individual meals
most adults benefit from protein intakes above the minimum RDA
They examined current perceptions about protein as well as benefits to treat and prevent obesity since 35.7% of U.S. adults were considered obese and 16.9% of U.S. children and adolescents were obese at the time of the review. The most recent NHANES data from 2013-2014 shows that 38% of adults are obese with 19% of children and adolescents being obese. A major flaw pointed out by this review highlighted the proportion of protein to carbohydrates and fats may be adequate with high energy consumption, but that as "total daily energy intake is often below 1400 kcal/day" when individuals seek to lose weight it could be potentially harmful to limit protein needs to the RDA as a loss in lean muscle mass could result (Layman, 2009).
In 2011, a study looking at required and optimal amounts of dietary protein for athletes found that while the RDA was .8g per kilogram, it was would be appropriate for athletes, both endurance (distance runners) and strength (bodybuilding and weightlifting) to consume between 1.6 to 2.25 times the RDA or 1.2g to 1.8g per kilogram (Phillips & Van Loon, 2011). The study also suggested that protein consumption between 1.8 to 2.0 per kilogram could be helpful depending on caloric deficit for the preservation of lean muscle mass.
Now, remember this study looked at protein consumption for very active people.
If you're sedentary, there's no reason to consume as much as an athlete. If you are active, you may also need to consider how much potential lean muscle mass you have. If you're overweight or obese, your protein needs may be less.
I formerly had a client who was consuming 1g per pound she weighed and it was over 200g of protein because a former coach had recommended it. She had an equal amount of protein to carbohydrates, which is a common calculation, but necessary.
A 1:1 ratio of protein to weight in pounds is a common suggestion and it's one that I utilized when I first started tracking macros, but as I started looking at my specific goals and needs, I realized what I was consuming wasn't helping me and I redistributed my nutrient goals.
While this client was very active and participated in weightlifting multiple times a week this 1:1 ratio of protein was inappropriate for her because it wasn't taking into consideration lean mass, but instead overall mass. It also left her feeling bloated, hungry and often with disproportionate nutrients to be satisfied.
So what can happen if you consume too much protein?
There are a few health conditions that have raised concerns, but they may not impact everyone – there's also some contradictory research and you need to figure out what side of the fence you're on.
Concerns around heart disease and high protein consumption also involve high amounts of saturated fat found in animal products (Thompson & Manore, 2015).". High saturated fat levels have been know to increase blood cholesterol levels and increase risk for heart disease. However, a moderate protein diet that is low in saturated fat can be good for the heart. Again, this is correlation, not necessarily causation.
Another concern is that excess protein found in the urine due to kidney impairment. "As a consequence, eating too much protein results in the removal and excretion of the nitrogen in the urine and the use of the remaining components for energy (Thompson & Manore, 2015)."
When protein is found in the urine it's called proteinuria. As part of the body's fitration system, kidneys remove waste from your blood, but allow nutrients like protein to return to the bloodstream to be recycled through the body. Protein in your urine can be a sign of impaired kidney function. It's important to note there is no evidence that more protein causes kidney disease in healthy people that aren't susceptible to the disease, however, more water should be consumed to flush out the kidneys because of protein metabolism (Thompson & Manore, 2015).
Bloating is also possible if "too much" protein is consumed in one meal and your body doesn't produce enough enzymes to assist in digestion. Chemical protein digestion occurs in the small intestine as a result from the enzyme pepsin. "Too much" is relative. I get bloated if I have more than 40g of protein in a meal. Depending on planning I can prevent too much consumption, but that's not always the case.
Like mentioned above, athlete and highly active individuals may need more than the RDA, but the average person may not need as much. Much recent research I found that examines the impacts of high protein consumption utilizes athletic bodies in high resistance training settings, which isn't necessarily a sample that will provide data that can be used for recommendations for an inactive or lightly active person.
The data is still interesting, but may not be helpful to the average person.
When I did find research articles discussing higher protein needs in obese individuals, I found many studies designed diet plans for participants with sub-1000 kcal/day. This is an extreme diet that may not typically be suggested for one to conduct without being monitored. An example of this extreme design is a study published in 2015 that examined normal protein intake versus high protein intake as well as carbohydrate reduction to determine success in weight loss and maintenance. Researchers assigned adult participants to 800 kcal/day for eight weeks and once participants had an 11 kg loss they randomly assigned them to a new plan with varying protein intake for six months. They found that individuals with higher protein intake were able to adhere to the plan, which not only resulted body fat losses, less inflammation and better blood lipid panels, but also were capable of maintaining losses. Researchers also suggested that less restrictive approaches also lead to higher adherence (Astrup, Raben, & Geiker, 2015).
Again, interesting, but this is an extreme that hopefully many won't use or need.
What about if you eat too little?
While we don't need as much protein for energy as many believe, we do need dietary protein to assist in building our bodies like mentioned above. Without dietary protein, our bodies breakdown stored protein i.e. muscle to be utilized to assist in daily functions such as creating amino acids. A true deficit of protein can result in a greater number of infections if the body is unable to produce enough antibodies. A true deficit occurs over time and in extreme circumstances; however, can be more likely if an individual is in a large caloric deficit.
So, easy question-  what food sources have protein in them?
Obviously meat is an excellent protein source, but there's more than meat. Legumes like lentils, black beans and green peas as well as nuts have protein in them too. While oatmeal is a well-known grain, it also has about 5g of protein per half cup serving. Dairy, while also another carbohydrate source, is also an excellent source of protein and the mineral calcium – if you're not lactose intolerant!
Vegetables that have protein in them that I recommend to clients who are trying to balance out density and volume in their eating include broccoli, Brussels sprouts and asparagus.
Like the other macronutrients, protein can be flexible within reason. Considering multiple factors to determine a specific plan for you will be key. It might take trial and error, it may also take some adjustments, but give yourself time.
Your nutrition should be specific to you and your goals. It should take all of you into consideration like have you approached menopause or had a hysterectomy? Hormones play a huge role in overall nutritional needs. What's your sleep like? Are you on medications? What's your stress like? Are you sitting more or less than before?
I know many of these questions can seem silly when posed, but they are important.
The body is a weird organism, just when we think we have it figured it out, it changes on us.
References:
Layman, D. K. (2009). Dietary Guidelines should reflect new understandings about adult protein needs. Nutrition and Metabolism, 6-12.
Phillips, S., & Van Loon, L. (2011). Dietary protein for athletes: from requirements to optimum adaptation. Journal of Sports Science, 29-38.
Thompson, J., & Manore, M. (2015). Nutrition: An Applied Approach. San Francisco: Pearson Education.
Timberlake, Karen. (2018). Amino Acids, Proteins and Enzymes. In K. Timberlake, Chemistry: An introduction to general, organic, and biological chemistry (pp. 548-583). New York: Pearson.
Wolfe, R. R. (2017). Branched-chain amino acids and muscle protein synthesis in humans: myth or reality? Journal of the International Society of Sports Nutrition, 14-30.
February 3, 2018
The last post talked about what carbohydrates were at the molecular level. I know it can be boring and in many cases it's a lot of information to be taking in, but it's also a good base to understand what they do for our bodies, how much we need and where we can find them.
What do carbohydrates do for our bodies?
The simple answer – they provide energy for us. They are the first fuel source utilized and they are preferred by different organ systems like the nervous system. This doesn't mean we can't get fuel from other macro nutrients like fat, it just means that the optimal choice for a healthy body is typically carbohydrates. We get 4 calories per gram of carbohydrates consumed (Thompson & Manore, 2015).
The more complex answer glucose provides the necessary nutrients in cellular respiration for the creation of Adenosine triphosphate or ATP (Reece, Taylor, Simon, Dickey, & Hogan, 2015). Below is the process of cellular respiration – it utilizes glucose and oxygen, which breaks down to carbon dioxide, water and ATP, energy not used can be lost as heat (not pictured). This answer gets even more complicated, but if you're interested and have 10 minutes, here a little video about it.
ATP is needed in  almost all forms of cellular work. You want to dance – you need ATP. You want to run – you need ATP. You want to walk around the house cleaning – you need ATP, or maybe you don't want it. Each action we do, from sitting at the breakfast table to lifting weights in the gym needs ATP to be performed, but they all use different amounts of energy.
Our cells can only store a limited amount of ATP, which means we need to continuously create it throughout the day.
I know some of you are thinking, yeah, but what about the keto diet and running on fat or ketones. I talked about that in this post. But for the sake of lessening carbohydrates as an enemy, we're just going to talk about them here.
So how many carbohydrates does a person need in a day?
This question can be tricky because it goes back to the individual and the goals. Someone who is more active may need more than someone who is less active. Activity can be related to your job like a teacher who walks and stands most of the day or an office employee who sits most of their day. Activity also relates to additional exercise like lifting or running or yoga or swimming.
Currently, it's recommended that carbohydrates make up the largest part of your nutritional intake between 45-65% of calories. The United States bases these numbers off of a 2,000 calorie diet – so for the sake of round numbers means 900 calories (225g) to 1,300 calories (325g) should be consumed (Thompson & Manore, 2015). That's a lot of carbohydrates.
The U.S. National Academy of Sciences "estimates that the average adult needs to take in food that provides about 2,200 calories of energy per day" but they also acknowledge that this will vary ( Institute of Medicine, 2005). Regardless, that's a lot of calories and when I think about the conversations I hear about weight loss and dieting – many doctors suggest low calories. My doctor years ago tried suggesting I stick to 1,200 calories to lose weight. So if energy balance is estimated at 2,000 to 2,200 calories, why do people suggest such drastic nutritional decreases? Faster progress? I don't know the answer.
Anyway, my own carbohydrate consumption makes up 42% of my total calorie intake at around 185g on average.
After working with clients, my own trial and error and other research – I don't fully agree with this recommendation and here's why.
Many people aren't eating a 2,000 calorie diet.
This caloric recommendation is inflated and is all to hopeful that individuals are working out a specific number of times a week for a specific length of time – that's just not realistic. Also, not everyone needs this many calories for optimal function plus exercise. I eat just under this recommendation, sometimes going higher when I go out to eat.
2. Even those who have healthy organ function, don't necessary feel great eating this many carbohydrates regardless of the carbohydrate source – remember fruits and vegetables are carbs too!
I can attest to this. When I consume more than 240g of carbohydrates, I feel tired and sluggish – even when the carbohydrates are combined complex from grains and simple from veggies and fruit. Some vegetables also make me bloated like brussels sprouts and broccoli because of how they break down in the digestive system #enzymes, which also means I have to be mindful of how I build my meals and how many greens I'm eating. Yes, even without the cookies or process carbohydrates, I don't feel great eating that much.
3. Those focusing on a whole foods, minimally processed approach can easily consume more carbohydrates through beans, quinoa, rice and higher carbohydrate veggies and fruit like sweet potato, apples and bananas – but this can still be a lot of volume.
Volume keeps us full, which can be a good thing and a bad thing. If you're too full from breakfast, even five hours later, it'll be hard to consume lunch, which can prevent someone from hitting caloric goals. It might be great in a deficit to be full, but not so great when you're trying to maintain or build. The feeling of constantly being full isn't pleasant. Also, if you think about how we discuss carbohydrates and the stigma that carbohydrates lead to obesity and general weight gain – a lot of people aren't eating beans, quinoa, rice or carbohydrate dense vegetables and fruits.
I've had a number of clients tell me they weren't allowed to eat bananas and apples before because it was too many carbohydrates. My suggestion – if it fits your plan calorically/macro nutrient-wise and keeps you satisfied, there's no reason to get upset about eating fruits.
So, what are your goals because like I mentioned above the body uses different amounts of energy to fulfill different activities.
The more intense the activity, the more carbohydrates may be necessary. The reason behind varying amounts of carbohydrate consumption? Studies have shown that most people have more than enough stored fat (body fat) to support exercise, but because of how the body uses carbohydrates we need to replenish glycogen (stored carbohydrates) (Poole, Wilborn, Taylor, & Kerksick, 2010).
Both strength and endurance athletes need an adequate amount of carbohydrates. So whether you're lifting in the gym or are an active runner or marathoner, you may need more carbohydrates. Not only does this provide fuel to conduct the activity, it can help with preventing muscle loss by utilization of glycogen. Carbohydrates post-exercise also replenish depleted stores.
So what is adequate for an athlete? The higher end of the recommended intake for carbohydrates (45-65%) would probably be more adequate, but you need to listen to your body and how it feels on carbohydrates. Old research used to suggest over 65% of calories coming from carbohydrates, but newer studies show that isn't necessary.
According to a study conducted in 2010 examining the role of protein and carbohydrates post-exercise found both protein and carbohydrate consumption were necessary to promote protein synthesis (the process to develop proteins i.e. muscle) and glycogen synthesis (process to replenish glycogen stores). They found that amount and timing can be impactful for synthesis, but more importantly the quality or kind of source for both nutrients played a huge role (Poole, Wilborn, Taylor, & Kerksick, 2010).
This doesn't mean that you need to drink a protein shake immediately or you need to gobble up a cup of oats as soon as you take your shoes off.
While this post is about carbohydrates, it would be irresponsible to divide the research in protein or carbohydrates because they go hand-in-hand in this case.
Here's what you should know:
Protein consumption can happen within an hour of exercise for optimal protein synthesis.
The kind of protein matters:

Casein is slower digesting
Whey is faster digesting

Digestion happens in your stomach, which can result in some bloating if you do consume large quantities of protein – not a terrible thing, but can be uncomfortable.
The amount of protein matters. This study showed positive results from only 20g of protein consumed post-exercise.
Carbohydrate consumption post-exercise was found to be most effective in glycogen synthesis for up to two hours after exercise had ended.
Combining the two may have the best results.

"A small amount of whey protein in addition to carbohydrate consumption in the recovery phase of exercise is a more sufficient means of increasing protein synthesis (Poole, Wilborn, Taylor, & Kerksick, 2010)."
So go home, shower and make your food and grow.
So where can we find carbohydrates?
When we think of carbohydrates and when I hear people talk about carbohydrates they immediately think of this:
Or they think of this: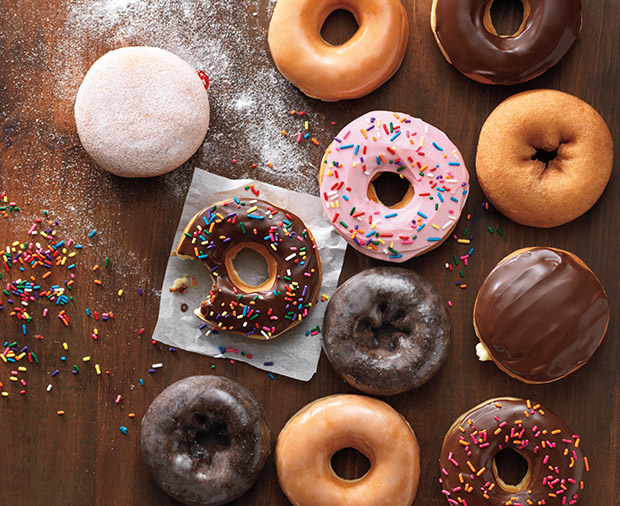 But really, carbohydrates can also mean this:
And it can mean this:
While I share the fun eating that I do and how it fits into my plan and lifestyle, I also have a large number of fruits and veggies in my daily diet that also make up my carbohydrate total.
Here's what's I eat:
blueberries
Brussels sprouts
oats
sweet potato
broccoli
English muffins
rice
bell peppers
onions
tomatoes
black beans
pretzels
pickles
navy beans
asparagus
strawberries
romaine lettuce
avocado
jalapenos
spinach
bananas apples
spaghetti squash
In the previous carbohydrate post, we talked about simple and complex carbohydrates and the difference. It's about the rates in which they breakdown. Fiber can help a food be more complex and slower digesting, which can help keep us fuller for a longer period of time. It also slows the increase in blood glucose levels, which is important for people who are diabetic.
When I talk to my clients about how they're creating their meal plans for the week, we discuss how they're combining food and how it makes them feel. I have one client who says that she feels great with oats and yogurt in the morning, but I have another client who says lunch has to be her carbohydrate dense meal because in the morning she'll feel sluggish otherwise regardless of how much sleep she gets.
Like I mentioned when we talked about fat and the Ketogenic diet, I believe there's no reason for elimination of food groups and nutritional sources for someone who has healthy functioning organs. The recommendations set by governing bodies are  created from studying a healthy functioning body. Having an allergy or intolerance or autoimmune disorder/disease is a completely different story and should be controlled differently.
Eating for fat loss is about being in a deficit, which is what elimination diets assist with, but moderation of all food groups assists your body in getting everything is needs down to the micronutrient. If I'm going to be blunt – being in a deficit takes self-control, elimination diets don't teach you how to have self-control around "normal" food or how to make better choices when going out to eat. They teach you to say "I'm allowed" or "I'm not allowed". We learn to categorize things are "good" and "bad" – the conversation surrounding food becomes a reflection of ourselves…But that's also a tangent for another time.
I believe that paying attention to the source of carbohydrate and how it makes you physically feel teaches us how to create a nutrition plan that fits our needs. I don't like being bloated so I try to not eat broccoli and Brussels sprouts on the same day, unless I'm also taking a digestive enzyme. I know I feel better with moderate carbohydrates so I stay between 150 to 200g of carbohydrates.
I challenge you to think of carbohydrates in this way. Ask yourself:
What carbohydrates you enjoy eating and how they make you feel?
What foods are your surprised to learn are carbohydrates?
Does your daily diet consist of simple and complex carbohydrates?
Do you consume more simple or more complex carbohydrates?
Could you be more balanced in how you create your daily plan so that you stay satisfied to stay on track and accomplish your nutritional goals whether they're for fat loss, maintenance or building?
There are days I know I can be better and choose a piece of fruit over a piece of chocolate – we all have those days. But I also know that a piece of chocolate won't hurt me just like one serving of fruit or vegetable won't exactly help me. It takes a string of good days to add up to progress. Just like it takes a string of bad days to really make a detrimental impact.
Be kind to yourself. Don't yell at the cookies when you walk by the snack aisle. Remember vegetables are carbohydrates too.
References
Institute of Medicine. (2005). Dietary Reference Intakes for Energy, Carbohydrate, Fiber, Fat, Fatty Acids, Cholesterol, Protein and Amino Acids. Washington, D.C.: The National Academies Press.
Poole, C., Wilborn, C., Taylor, L., & Kerksick, C. (2010). The role of post-exercise nutrient administration on muscle protein synthesis and glycogen synthesis. Journal of Sports Science Medicine, 354-363.
Reece, J. B., Taylor, M. R., Simon, E. J., Dickey, J. L., & Hogan, K. (2015). Campbell Biology: Concepts and Connections. New York: Pearson Education.
Thompson, J., & Manore, M. (2015). Nutrition: An Applied Approach. San Francisco: Pearson Education.
January 5, 2018
For a long time there was a war on fat, like over 30 years long. I've talked a lot about the importance of reading labels and understanding what you're consuming. Not necessarily saying no to the processed food, but understanding or knowing what is in it. Well, taking that a step further – we need to also understand that the guidelines that back those labels up are created by governing bodies that may or may not benefit by creating certain guidelines or encouraging certain studies.
I'm not saying that the FDA or USDA or other regulatory groups are bad, but I am saying that the information can be misleading or a generalization in some cases.
A good example: the nutrition label you see on your boxed and canned goods is based off of a 2,000 calorie diet. This means the percentage listed as daily value is based off of 2,000 calories, but you may not be eating 2,000 calories – you may be consuming more or less.
Another example: the most recent guidelines by the USDA have a caloric recommendation for individuals based on gender, age and activity level with all numbers being whole, round numbers. These numbers are only below 1,400 daily calories for children under the age of 6, sedentary males peak at 2,600 calories for a 19/20 year old with sedentary females peaking at 2,000 calories for ages 19-25 – individuals who are more active peaked calories up to 3,200 daily.  The guidelines state that the sample bodies used to determine were an average height and a "healthy" weight (page 77-78).
"For adults, the reference man is 5 feet 10 inches tall and weighs 154 pounds. The reference woman is 5 feet 4 inches tall and weighs 126 pounds."
I'm 5'4″ and I weight about 138 pounds. I'm roughly 17% body fat, which is lean and considered athletic for a female. My measurements are small. I don't fit the sample body. I also don't know many "healthy" men that would fit this sample body either.
The first dietary guidelines were rolled out in the 1980s and at the time, the biggest concern was heart disease and heart attacks. Ultimately, the first guidelines recommended against all fat and foods that had cholesterol like red meat.  However, more research has shown that not all fats are created equal and that dietary fat is necessary for bodily function. In the most recent guidelines for 2015-2020, it's stated that saturated fat consumption should be 10% or less of overall calories consumed (page 15 footnotes). It's also recommended that you replace saturated fats with unsaturated fats.
Before we get ahead of ourselves, let's talk about fats. Have you ever heard about triglycerides? It's possible that your doctor has mentioned this term before when discussing blood work and overall health. These are the most common dietary fat we eat. This is also the form that fat is stored in our bodies.
The science of triglycerides
Triglycerides are a molecule consisting of 3 fatty acids attached to a 3 carbon glycerol backbone (Thompson & Manore, 2015). They are classified by their chain length (how many carbons are attached), their level of saturation (how much hydrogen is attached to each carbon) and their shape.
The first way to classify – chain length. The first thing we learned in biology is that structure determines function – if you have a wheel it can move things forward, right? It can't make things fly. There are three chain lengths: short (6 or fewer carbon), medium (6 to 12 carbon) and long (14 or more carbon). The lengths determine the method of fat digestion and absorption as well as how the fat works within your body. As you imagine, the shorter the chain, the faster the digestion and absorption (Thompson & Manore, 2015).
Now, saturation level. What's the difference between these two kind of fats?
The simple answer – saturated fatty acids have closely packed molecules because they lack a double bond that would "space" them out. This means they can solidify at room temperature, example: a jar of coconut oil. unsaturated fatty acids do have a double bond, which prevent them from solidifying at room temperature, example: olive oil (Reece, Taylor, Simon, Dickey, & Hogan, 2015).
Lastly, shape – the carbon molecules impact the shape. The lack of the double bond in saturated fat allows the chain to be straight and pack tightly together. The double bond in unsaturated fat prevents the chain from being straight and actually adds kinks, which makes them liquid at room temperature.
But what about  bottles of coconut oil at the store, how are those liquids? Coconut oil that is liquid at room temperature is manipulated during manufacturing. The removal of natural fatty acids that solidify allow liquid coconut oil to be just that. Lauric acid, the fatty acid in coconut oil known for its health benefits like being a germ killer, is actually removed in this process. This is because it's melting point is over 100 degrees Fahrenheit. To read more about the production, safety and use of liquid coconut oil check out this article.
Coconut oil isn't the only thing that is manipulated on the market. Unsaturated fats can also be manipulated by food manufacturing in a process called hydrogenation, which started in the early 1900s (Thompson & Manore, 2015). This process adds hydrogen molecules, which in unsaturated fats causes the double bonds to be partially or totally removed allowing the fat to become solid and store more easily for a longer period of time.
This is also where we get trans-fats, which actually is describing the double bonds in the molecule. This kind of fat is found mostly in foods that are manipulated, although a small amount of natural trans fatty acids are found in cow's milk and meat.
Now that I've confused you, triglycerides do contain essential fatty acids that are important for health (Thompson & Manore, 2015). Essential fatty acids (EFA) are obtained from the foods we consume – our bodies cannot produce them. There are two groups of them: Omega-6 and Omega-3.
Omega-6 Fatty Acids have a double bond 6 carbons from the end (omega = end of the chain, 6 = number of bonds away from the end). Linoleic acid is an omega-6 that is essential for human health. This is found in vegetable and nut oils like peanut oil, sunflower oil, corn oil and soy.
Omega-3 Fatty Acids have a double bond 3 carbons from the end. Alpha-linolenic acid is the most common in our diets and primarily comes from plants like leafy greens, walnuts, flaxseeds.
Why are EFAs important?
They're precursors to biological compounds found in every cell in the body that regulate cell function.
Why is fat in general important?Fat provides energy; it has 9 calories per gram, which makes it the most dense energy source. Our bodies use fat when we're at rest and during physical activity.
Fat helps transport vitamins A, D, E and K throughout the body, which help regulate functions like calcium absorption and utilization, cell membrane protection, blood clotting, bone health and vision.
Fat regulates our hormone production and cell function. *
Fat contributes to satiety, which means we stop eating sooner and helps us feel full longer.
Fat Importance on Cell Function and Hormone Production
This is something I talk a lot about with my clients. Fat is important because of the reasons listed, but as someone who works predominately with women this is something I want to drive home with them. There's no reason to fear dietary fat, but we do need to moderate it. Phospholipids are a major component of our cells (Reece, Taylor, Simon, Dickey, & Hogan, 2015). These are similar to fats, except they contain two fatty acids attached at the glycerol, not three. Steroids are hormones produced in the adrenal cortex, cortisol is an example of a steroid hormone, which regulates carbohydrate metabolism and provides an anti-inflammatory effect on the body.
Fat -loving and the Ketogenic Diet
As the war on fat has started to settle, the rise of high fat diets like the ketogenic diet have started to become increasingly popular for fat loss; however, this style diet isn't for everyone and should be monitored because of other potential health outcomes.
So what is the ketogenic diet?In simple terms it's a high fat, very low carbohydrate (~20g or less daily), moderate protein diet that has been utilized to help with refractory epilepsy since the 1920s (Gupta, et al., 2017). It's especially helpful for children with epilepsy, but according to the Epilepsy Society, adults may also benefit from it. The ketogenic diet has also been found to assist with fat loss in individuals who are obese lose as well as help manage other disorders like polycystic ovarian syndrome (Gupta, et al., 2017). However, be reminded that less extreme diets that moderate calories will also result in fat loss as long as the individual adheres to it and a diet that moderates carbohydrate intake may also assist with PCOS.
So how does the ketogenic diet work?
Our bodies utilize carbohydrates that have been broken down to glucose as a main source of energy (Thompson & Manore, 2015). While our bodies also use fat as fuel, glucose is favorited by red blood cells, some nervous tissue and our brains for energy.
When we don't take in enough carbohydrates…. let me pause…enough carbohydrates doesn't mean hundreds of grams daily. Enough carbohydrates could be 100g a day depending on the age, gender and activity levels of the person. Ok continuing…our bodies start looking for another fuel source. In the process of ketosis, the liver converts fat into fatty acids and creates ketone bodies or ketones that will be utilized as fuel. These ketones are a natural appetite suppressant that can help control nutritional intake (Thompson & Manore, 2015).
What about the keto diet is beneficial to different populations?
The effects on the "central nervous system, cellular metabolism and metabolic pathways, have shown promising results in a variety of neurological disorders, traumatic brain injury, acne, cancers, and metabolic disorders (Gupta, et al., 2017)." "The ketogenic diet alters the energy metabolism in the brain, therefore altering brain excitability," which impacts  how cells communicate with each other and regulate the CNS (Lee, 2012).
Is there one way to practice keto?
This is a tricky question. The classical diet of keto that is utilized with epilepsy patients suggests strict ratios of fat, carbohydrates and protein at every meal. It also includes little protein and carbohydrate because of the body's ability to be "knocked out" of ketosis by too many of either.
The medium chain triglyceride (MCT) diet allows for a little more carbohydrates and protein. This version provides some flexibility and allows MCT oil to be used a supplement. Nutrients are also calculated by the percentage of calories for each group, meaning it's not a specific number of grams, but a percentage of overall calories.
If keto can be helpful, why shouldn't everyone utilize it?
A true ketosis diet should be monitored because of higher risks for other health concerns like osteoporosis (weak and brittle bones), hyperlipidemia (abnormally high fat in the blood), nephrolithiasis (kidney stones). Some of these health concerns can onset as we age, but nutritional deficiencies can increase risk. This means that supplementation is necessarily because there is a lack of diversity by lowering carbohydrate intake. This would be a recommendation for many people seeking fat loss with any diet – supplement appropriately.
The use of carbohydrates in our diets isn't just for daily function like walking, talking and sitting; they're also used for fuel during prolonged period of activity and protect again the use of stored protein as a fuel source  i.e. muscle loss (Thompson & Manore, 2015). When our bodies don't have enough carbohydrates our bodies continue to find fuel sources, and while in a perfect world we imagine the body will find stored fat to utilize, it will also find stored protein. Not only does this result in muscle mass loss, but it can weaken our immune systems and prevent optimal function. However, this kind of loss can be associated with too little calorie intake because a nutrient group has be drastically decreased or eliminated.  
If ketone levels are too high the blood can become very acidic and can lead to ketoacidosis. This actually prevents optimal body function and ultimately can lead to damaged tissue.
Why don't I believe the ketogenic diet should be prescribed to everyone?
My personal belief is that the ketogenic diet should be utilized for clinical conditions like epilepsy and other cognitive or metabolic disorders. I do believe that some people feel better on lower carbohydrates, but lower is relative.
I had a client who recognized she felt physically better on higher fat, moderate carbohydrate and protein. Her macros were 75F/100C/147P or 1,663 calories. Her goal was fat loss and this was a deficit for her. On days that she would run long distances (over 4 miles) she would increase her carbohydrates between 20-40g because it helped in those runs.
Yes, I eat processed food and things with real and artificial sweeteners in them, but I also know that's not for everyone. I know not everyone can moderate these foods and that's completely ok. I do believe that one way to work towards creating a healthier food plan is to examine the carbohydrates that are you taking in and how they make you feel. I ask my clients to do this often by making a list or notes when they recognize they feel bloated, jittery, exhausted, fatigued, etc.
Carbohydrates breakdown to sugars like stated above so in many cases they feel these things because of 1. too much sugar (real or added) 2. too many overall carbohydrates 3. the kind of carbohydrates they're consuming (simple versus complex). I don't think extremes need to be implemented to see change or progress unless specified by a physician.
Mentally, I think elimination diets that pull full groups of foods can be harmful over time to the relationship that we have with food. Creating a balance lifestyle also means enjoying foods that tastes good, but isn't necessarily the greatest for us, but understanding that moderation is key. Eating out, attending and participating in parties and functions is a part of life and experience. While many suffer from auto immune disorders or illnesses that force them to create alternative eating styles to manage their health, many don't need extreme measures.
Health coaches, lifestyle coaches, personal trainers, wellness coaches, etc. people assisting others like I do, should be encouraging individuals to bring in all their resources to find what ultimately works for them in a reasonable and safe way.
We shouldn't fear fat in our diet, but we also shouldn't fear other nutritional groups either – we just need to better understand them.
References
Epilepsy Society. (2016, March). Ketogenic Diet. Retrieved from Epilepsy Society: https://www.epilepsysociety.org.uk/ketogenic-diet#.WkzL6TdG1PY
Gupta, L., Khandelwal, D., Kalra, S., Gupta, P., Dutta, D., & Aggarwal, S. (2017). Ketogenic diet in endocrine disorders: Current perspectives. Journal of Postgraduate Medicine, 242-251.
Lee, M. (2012). The use of ketogenic diet in special situations: expanding use in intractable epilepsy and other neurologic disorders. Korean Journal of Pediatrics, 316-321.
Reece, J. B., Taylor, M. R., Simon, E. J., Dickey, J. L., & Hogan, K. (2015). Campbell Biology: Concepts and Connections. New York: Pearson Education.
Thompson, J., & Manore, M. (2015). Nutrition: An Applied Approach. San Francisco: Pearson Education.